Here at Rampage not only do we offer your favourite proxy providers at the best prices, we also supply servers. In this guide, we'll show you how to purchase a server and where to manage it using our dashboard.  
Using the Rampage Dashboard
All server purchases are made through our intuitive dashboard (unless you wish to purchase using a crypto-currency, please contact us directly). To begin, please navigate to our dashboard. You will need to sign into the dashboard using your discord account to authorise- your server will be assigned to the discord ID logged into the dashboard at time of purchase. You will also see any currently active servers beside your residential balances and active ISP/DC orders.
Once logged in, on the left navigate to > "Order Servers"

On this page you'll now be able to select the server specification you require. We currently sell servers either daily or monthly through the dashboard. Daily servers are active for 24 hours from purchase, monthlys are a month from purchase. For any server specification not listed here, please contact us directly. We can facilitate custom orders if resources are available.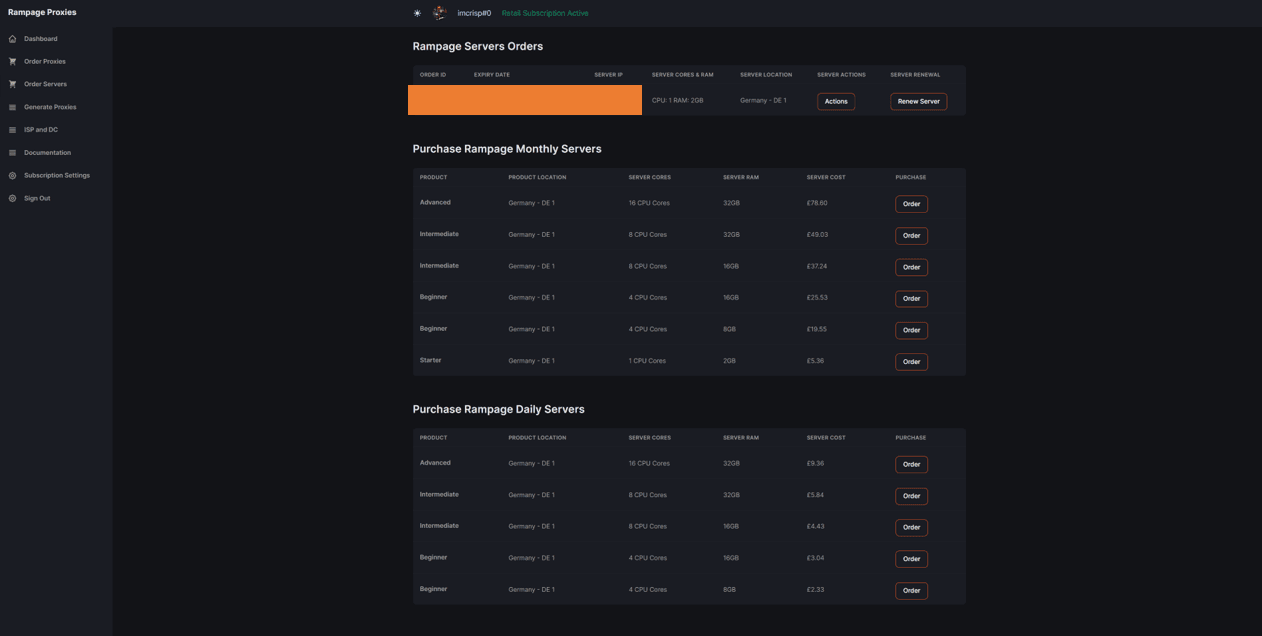 Once you've selected the server you desire, click > "Order" to be taken to the payment screen. For your convenience, we accept all major credit and debit cards as well as apple and google pay.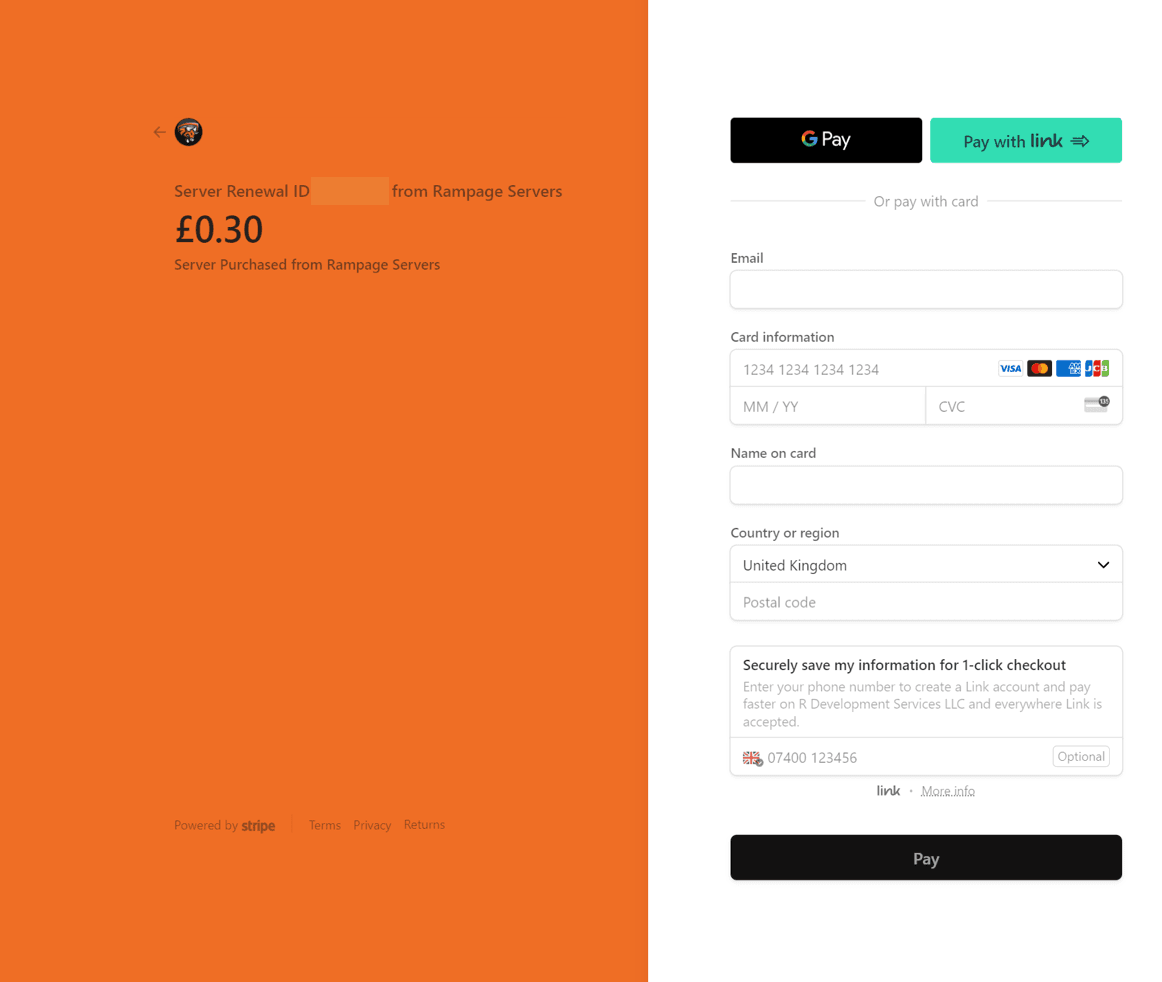 Your server IP, username, and password will then be delivered to your Discord via a DM from our custom bot. From here, you'll need to use RDP (or your preffered software) to connect to the server. As an added security measure, we always recommend changing the password.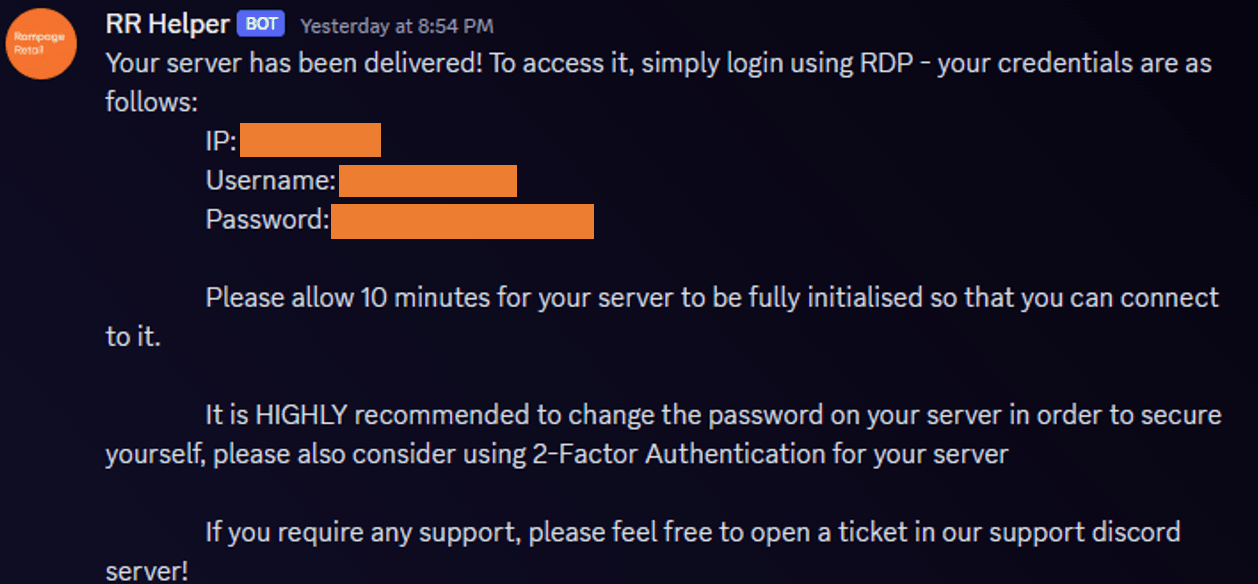 Managing the Server
After purchasing, you'll be able to manage the important functions from the dash. From our dashboard, you can:
Renew the server.
Power the server on/off
Power cycle the server (useful if you are locked out from too many connections via RDP)

Why Rampage is the best proxy platform
Unlimited Connections and IPs
Limitations are a thing of the past. Supercharge your data operations with the freedom to scale as you need.
Worldwide Support
From scraping multiple web targets simultaneously to managing multiple social media and eCommerce accounts – we've got you covered worldwide.
Speedy Customer Support
We offer 24/7 customer support via email and live chat. Our team is always on hand to help you with any issues you may have.
Digital Dashboard
Manage all of your proxy plans on one dashboard - no more logging into multiple dashboards to manage your proxies.